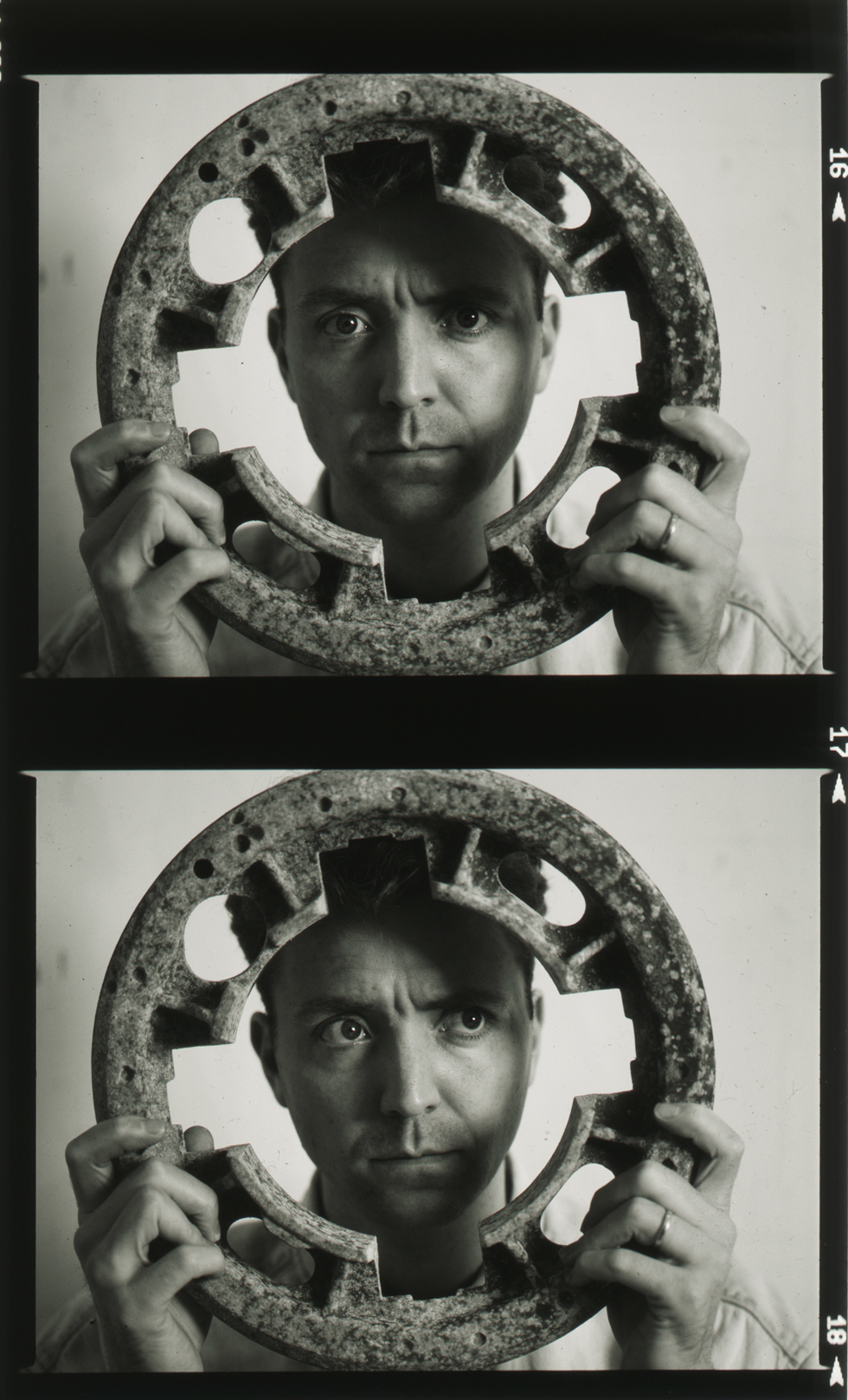 FOUR OBJECTS FROM A CONFERENCE ON MEASUREMENT
The Diviner/Water Bearer's Piece
The son and grandson of dowsers, he could not resist Wood's call to join the crew of the Ocean Drilling Program's drill ship JOIDES Resolution — the floating scientific research laboratory — on one of their two-month surveys, or legs. Their destination was Hole 504B, drilled 2,200 meters below the ocean floor located on the southern flank of the Costa Rica Rift in the eastern Pacific Ocean. The drilled depth is about 7,000 feet. The water depth is about 4,000 meters (13, 000 feet) for a combined depth of about 20,000 feet below sea level, or about 3.8 miles. The hole was lined with a cement casing so that it would not collapse and a permanent re-entry cone was left. He was clearly preparing to request certification for a downhole tool that he had invented. His pulse quickened when he sighted the beacon marking the drilling site. Nothing could be a better standard of measurement than the depth of a hole into the Earth's history.
The Wine Merchant/Astronomer's Piece
He had spent much of his day anticipating the auction of oversize bottles of Burgundy wine, owned by Rusty Staub — the former baseball star and restaurateur — to be held at Christie's in New York. Staub's lot of 21 methuselahs, (the equivalent of eight regular wine bottles) might go for as much as $100,000. His own collection of wine included methuselahs from each of the seven finest wine vineyards of the Domaine de la Romanée-Conti. In addition there were double magnums (four bottles) of Château Mouton-Rothschild and immense nebuchadnezzars (twenty bottles) in vintages from 1970 to 1988. He would be bidding by telephone from his rooftop observatory where, in the moments before they would call him for his bid, he thought about the standard 75 centiliter wine bottle. Nothing, he thought as he gazed at the vast early April sky, was more of a standard of measurement than the potential of humanity. Any forward thinking society must base their system of measure on that.
The Musician's Piece
At age ten, he developed a viral infection of the inner ear that caused him great dizziness. A morbid fascination with Beethoven followed and he taped a reproduction of an etching of Beethoven's room, drawn three days after the composer's death, to the door of his bedroom where he confined himself to his bed. He committed to memory Beethoven's despair as deafness closed in on him: "I am resolved to rise superior to every obstacle. With whom need I be afraid of measuring my strength? I will take Fate by the throat." Despite a timely end to the pathological side of the problem, it was replaced by basophobia, an inability to stand because of a fear of falling. A knowing doctor suggested he learn to play the double bass thinking it could serve the child as a prop. Even now, as long-playing albums give way to compact discs, the instrument has remained his constant. The bass string, the longest string in the orchestra, is the standard on which his life is based.
The Filmmaker's Piece
A film critic for the New York Times, described her work as "kinetic and daring" and "furiously talented… no one will ever say she directs like a girl." Yet on days like this, she was all too aware of her gender. Surely as a working mother only the length of her day was a fair standard of measurement. By 10:30 a.m., before her creative day would have even begun when she was single and free, she had already prepared three meals, photographed her son's K-1 class with their community project, consulted with the publicist of a film festival, dropped off a 3/4″ video master for dubbing to VHS PAL format for a producer in Germany, and made a phone call to the bank explaining how she had misidentified the store where she was buying groceries and needed to cross out one name and put in another on the very last check in her checkbook. "Don't bounce the check," she implored, "it's good — just a bit messy."